Announcing the 2017 Blue Biennial Juror Vera Ingrid Grant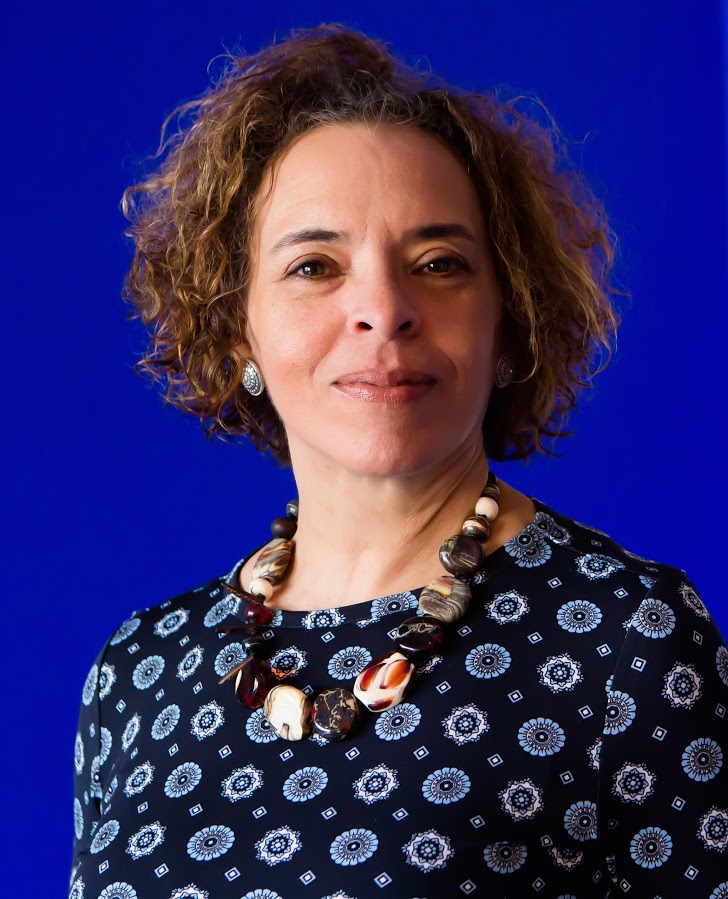 Vera Ingrid Grant is the director of the Ethelbert Cooper Gallery of African & African American Art at the Hutchins Center, Harvard University (2012—present). She most recently curated Harlem: Found Ways (Summer 2017); THE WOVEN ARC (Summer 2016); and the Art of Jazz: NOTES (Spring 2016) at the Cooper Gallery; and The Persuasions of Montford at the Boston Center for the Arts (Spring 2015). Her curatorial approach leverages theories of visual culture to create an immersive exhibition experience charged with object driven dialogues.  Grant is a Fulbright Scholar (University of Hamburg, Germany), has an MA in Modern European History from Stanford University, and was a fellow (2015-16) at the Center for Curatorial Leadership (CCL).
Click here to read more about our juror!
About the Exhibition: For more than a decade, the Cambridge Art Association has hosted a fall exhibit, open to artists from across the Northeastern United States, centered around a single color. Both the success of the exhibit series, and the challenge to participating artists, lies in channeling the varied meanings of a color like BLUE. BLUE is more than a color. Past jurors for the BLUE  Biennial include: Amy Sadao (Director, ICA Philadelphia); Howard Yezerski (Miller Yezerski Gallery); Carl Belz (Rose Art Museum); Jane Farver (MIT List Visual Arts Center); Nick Capasso (Fitchburg Art Museum).

Blue Artist Talk: December 15th, 12-2pm presented at the Kathryn Schultz Gallery

Interested in becoming a member? Click here!
Katrina
Abbott
Artist Member
Cambridge
MA
China Trade Tea and Opium
Wax, Ceramic, Paper, Tea and Poppy Seeds on Panel
13×13″
NFS
Kathryn Schultz Gallery
Richard
Allen
Sebago
ME
0217 Storytelling
Mixed Media
36×36″
$1,000
University Place Gallery
Kathleen Gerdon
Archer
Artist Member
Beverly
MA
A Pulse of Silver
Polypropylene Print on sintra under Plexiglas
24×36″
$1,500
Kathryn Schultz Gallery
Julie Fei-Fan
Balzer
Associate Member
Watertown
MA
After New Orleans
Acrylic on Canvas
36×36″
$5,400
University Place Gallery
David Lee
Black
Associate Member
Wrentham
MA
The Diviner
Photography
16×20″
$275
University Place Gallery
Mark
Chadbourne
Associate Member
Brookline
MA
Ordered Cacophony
Acrylic
26.5×19.2″
$950
University Place Gallery
Martha
Chason-Sokol
Associate Member
Brookline
MA
1.2.3
Pigmented Beeswax & Graphite Monotype
14×40″
$450
University Place Gallery
JoAnne
Chittick
Artist Member
Cohasset
MA
Morning Sun
Oil on Canvas
22×26″
$2,100
Kathryn Schultz Gallery
Cynthia
Cooper
Farmington
CT
Untitled (Attainable)
Acrylic on Canvas
48×36″
$1,850
University Place Gallery
Nancy
Crasco
Artist Member
Brighton
MA
Cutting into Kelp
Fiber
33×31″
$1,200
Kathryn Schultz Gallery
Patricia
Crotty
Artist Member
Arlington
MA
Around the Bend
Oil and Charcoal on Canvas
16×24″
$800
University Place Gallery
Ruth
Daniels
Somerville
MA
Tangled
Coated Wire, Waxed Lini Thread
42x12x7″
$500
Kathryn Schultz Gallery
Rebecca
Davis
 
Wakefield
RI
What It Feels Like
Two-Channel Digital Video
$180
Kathryn Schultz Gallery
Estelle
Disch
Artist Member
Cambridge
MA
Tree Mosiac IV
Archival Pigment Print
19×13″
$250
University Place Gallery
Lynda
Fatalo
Artist Member
Manchester
MA
Underneath
Mixed, paint, ink, steel/plastic pins on canvas
10×10″
$250
Kathryn Schultz Gallery
Haleh
Fotowat
Artist Member
Cambridge
MA
Ghoghnoos
Gouache, watercolor, pen and ink on paper
30×22″
$1,000
University Place Gallery
Diane
Franklin
 
Jamaica Plain
MA
Urbana 4
Fiber Art, Fabric and Paper
37×51′
$2,525
University Place Gallery
Raymond
Gilbert
Lynn
MA
Window Pains
Mixed Medium on Canvas
28×36″
$1,100
University Place Gallery
Conny
Goelz-Schmitt
Artist Member
Beverly
MA
Up in the Air
assemblage made of vintage book parts
30x30x2″
$2,400
Kathryn Schultz Gallery
Betsy
Gould
Artist Member
Cambridge
MA
LookingIn Lookin gOut
Woodcut with Pencil
20×16″
$1,500
University Place Gallery
Carol
Greenwood
Cambridge
MA
SG #35 (Gray)
Plaster with Mixed Media, Paper Felt
15×11″
$1,200
Kathryn Schultz Gallery
Anne
Harney
Boston
MA
Lovers In Blue
Oil on Canvas
40×34″
$2,000
University Place Gallery
Nicolas
Hyacinthe
Artist Member
Randoplh
MA
Alernative Facts II
Digital Painting
29×26″
$400
University Place Gallery
Debra
Jayne
Artist Member
Hanover
NH
Urban Landscape 12
Oil viscosity print
30×22″
$800
University Place Gallery
Christine
Johnson
Swampscott
MA
A Moments Indulgence
Acrylic on Canvas
36×36″
$995
University Place Gallery
Tira
Khan
Artist Member
Newton
MA
Emptiness
Inkjet Print
13×19″
$550
Kathryn Schultz Gallery
Kevin
Kusiolek
Salem
MA
Manhattan
Oil on Panel
24×36″
$1,500
Kathryn Schultz Gallery
Crystalle
Lacouture
Artist Member
Wellesley
MA
Road Building
Oil on Canvas
42×52″
$2,800
University Place Gallery
Bette Ann
Libby
Artist Member
Chestnut Hill
MA
Klee Village Midnight
Ceramic shard mosiac
20×30″ (Each)
$2,400
Kathryn Schultz Gallery
Madeleine
Lord
Artist Member
Dudley
MA
SHOT – Black and Blue
welded scrap steel, paint as found
30x68x38″
$4,000
Kathryn Schultz Gallery
Faith
Lund
Wilbraham
MA
Emerison
Acrylic Paint
42×48″
$2,000
Kathryn Schultz Gallery
David
Magdalenski
Artist Member
Amesbury
MA
Black and Blue All Over
Acrylic and Wood Stain on Pine and MDF Board
$3,500
Kathryn Schultz Gallery
Stephen
Martin
Artist Member
Amesbury
MA
blue Bird Send a Letter South For Me
Assemblage
84×14″
$2,500
University Place Gallery
Margarette
Mattos
Artist Member
Cambridge
MA
Door to the Sea
Acrylic, plaster and wax on canvas
31×41″
$1,600
University Place Gallery
Aaron
Morse
Northampton
MA
Submergence
Acrylic and Mixed Media
96×36″
$10,000
University Place Gallery
Andrea
Oseas
Artist Member
Cambridge
MA
Little Compton Blues
Glass
8×8″
$750
Kathryn Schultz Gallery
Iris
Osterman
Artist Member
Framingham
MA
Preamble
Oil and Graphite on Canvas
48×38″
$2,500
University Place Gallery
Jane
Paradise
Artist Member
East Orleans
MA
One the Edge Dunes
Photography
22×17″
$495
Kathryn Schultz Gallery
Deborah
Peeples
Associate Member
Cambridge
MA
Aftermath
Encaustic Paper on Panel
12×12″
$800
Kathryn Schultz Gallery
Paula
Pitman Brown
Associate Member
Needham
MA
Teen Lovers on Subway, 2017 Paula Pitman Brown
Oil on Canvas
18×24″
$750
Kathryn Schultz Gallery
Julia
Powell
Artist Member
Cambridge
MA
If You Lived Here Youd Be Home
Oil on Cotton Canvas
24×30″
$4,500
Kathryn Schultz Gallery
Edwina
Rissland
Artist Member
Belmont
MA
Rudder with Blue Tape
archival pigment print of 35mm image
22×28″
$650
Kathryn Schultz Gallery
Evan
Rosenberg
Associate Member
Allston
MA
Worn Out
Acrylic on Canvas
36×36″
$750
University Place Gallery
Gail
Samuelson
Artist Member
Sherborn
MA
Wetland #5
archival pigment print
19×15″
$850
Kathryn Schultz Gallery
Nathan
Schneider
Natick
MA
Skyworks
Photograph
18×12″
$350
Kathryn Schultz Gallery
Blanche
Serban
Storrs Mansfield
CT
Entanglement in Blue
Acrylic on Canvas
30×40″
$2,700
University Place Gallery
Thea
Shapiro
Andover
MA
Into the Woods
Monoprint, Collage, Acrylic Paint and Fiber
14×17″
$250
Kathryn Schultz Gallery
Jane
Sherrill
Artist Member
Somerville
MA
Red Bathing Suit #4
Acrylic on wood panel
18×40″
$2,600
Kathryn Schultz Gallery
Susan
Siefer
Artist Member
Waltham
MA
Kesh Blues
Acrylic,powdered pigment, gold leaf, thread
40×30″
$1,850.00
University Place Gallery
Caron
Tabb
Artist Member
Newton
MA
This Non-Linear Life of Yours
acrylic, house paint, charcoal, found objects
48×36″
$2,500
University Place Gallery
Timothy
Wilson
Artist Member
Somerville
MA
Retired Old Blue
Digital Photograph
19×24″
$400
Kathryn Schultz Gallery
Barbara
Trachtenberg
Artist Member
Newton
MA
Refugee Ship Shirt cuff
Acrylic on canvas, shirt cuff, cardboard
32×32″
$1,800
University Place Gallery
Shu-Lin
Tung
Cambridge
MA
The Collapse of Freedom Under Blue Sky
Acrylic on Canvas
26×18″
NFS
University Place Gallery
Stephanie
Warburg
Artist Member
Boston
MA
Just Under the Surface
Oil on Canvas
48×36″
$2,000
University Place Gallery
Phil
Young
Artist Member
Arlington
MA
Blues Night
Acrylic
24×24″
$1,600
Kathryn Schultz Gallery
Harry
Yu
Boston
MA
Lucd Dream
Acrylic on Canvas
24×30″
$1,540
University Place Gallery
Joan
Zagrobelny
Great Barrington
MA
Blue Dancer
Ceramic (Paperclay) With Engobes and Glaze
27x14x16″
$1,400
Kathryn Schultz Gallery
Jamezie
Associate Member
Allston
MA
Líkamlegt 7
Cyanotype on Muslin
2×325″
NFS
Kathryn Schultz Gallery