Selfish | Investigating Identity
We are asking artists to consider identity through a personal lens. The byline for the exhibit is "investigating identity" which seems apt for our moment in time, when identity can be expressed in so many ways – through dress, gender, education, religion.
 OPENING CELEBRATION: Thursday, April 14, 6-8pm at University Place Gallery
End of Show Pick Up: Thursday, May 5 & Friday, May 6th, 11am-5pm University Place Gallery

Congratulations to the accepted artists!
Deedee
Agee
Woman of the Woods
Drypoint
23×25′
$400
Pesya
Altman
Tropical Seeds
Mixed Media on Canvas
24×30″
$1,500
Patricia
Berube
Self Portrait I
Solar Print
20×14″
$650
Sally
Bousquet
Stranded
Photography
20×26″
$500
Judith
Clapp
A Work of Art
Inkjet Print
16×20″
$125
Mia
Cross
Kiss Kiss
Oil on Canvas
47×49″
$1,500
Susan
Denniston
Feeling My Way
Mixed Media
12x12x2″
$200
Taylord
Dezeme
Struggle
Oil on Canvas
36×48″
$1,600
Remmi
Franklin
Pink Holes
Mixed Media
$185
Kathryn
Geismar
Self Portrait Yellow
Oil on Linen
15.25×12.25″
$900
Fay Lamson
Hannon
Fay, Self Portrait
Oil on Canvas
13.5×13.5″
$450
Gillian
Haven
Self Portrait with Jo's Scarf
Oil
17×21″
$500
Bob
Hesse
Self Portrait with Bad Idea
Water Miscible Encaustic Romam Palette
12×16″
$300
Linda Clayton
Hicks
Unforgiving Vision
Oil on Cardboard
12.5×9.5″
$300
Youngsheen A.
Jhe
At That Moment
Oil on Canvas
44×31″
$6,000
Andrea
Kadomiya
Long Ago
Oil on Wood
8×10″
NFS
Christine
Ledoux
Entangled
Mixed Media
9×12″
$350
Bonnie
Lerner
Today I am…
Mixed Media
24×24″
$1,000
Paul
Levenson
The Momentary Illusion of an Integrated Self
Glass, Mirror, Sculpture
$500
Madi
Lord
In Line
Drawing
3x2ft
NFS
Patricia
Mahon
Can't Get Enough of a Good Thing
Acrylic, Photography and Mixed Media
20×20″
$650
Gourgen
Manoukian
Fairy Tale
Oil on Canvas
18×24″
$4,500
Stephen
Martin
Storm Clouds
Mixed Media
10×24″
$500
Michelle
Mendez
Your Expereince has Been a Most Entertaining One
Oil, Oil pastel, Printmaking Ink on Tar Paper
24×28″
$650
Elizabeth
Menges
Twin Identity
Graphite on Wood
6×6″
$250 (Each)
Azita
Moradkhani
My Body and Flag
Colored Pencils and Pen
10×7.5″
$600
Christine
Palamidessi
Releasing Blackbirds from Right Shoulder
Mixed Media
24x11x18″
$900
Irina
Parfenova
On the Road
Oil on Mylar
22×30″
NFS
Anne
Plaisance
Born to Have NPD
Oil Painting, Collage, Acrylics on Canvas
6x38cm
NFS
Judith
Prager
Self Portrait #1
Acrylic on Canvas
8.5×10.5″
$300
Norah
Remmers
Small and Wise Ants
Woodblock Print
26.5×32.5″
$600
Karen
Rothman
Shrouded
Oi on Canvas
18×18″
$500
Patricia
Schappler
Resurrection
Charcoal, Shellac and Collage
50×37.5″
$3,500
Siri
Smedvig
My Self-Ish
Watercolor
10×8″
$550
Janet
Smith
Self Portrait 101
Photography
14×16″
$200
Jeanine
Sobell Pastore
Katrina #1
Oil on Cradled Panel, Framed
9.5×11.5″
$625
Roz
Sommer
Self Portrait with Red Earrings
Oil on Board
12×12″
$650
Tom
Stocker
Latina Marilyn
Acrylic and Collage on Canvas
13×13″
$600
Lorraine
Sullivan
Portrait of the Artist as a Young Girl
Mixed Media
14x24x8″
$2,000
Gilead
Tadmor
The Artist as a Bewildered Bird
Etching Aquatint and Drypoint
18×24″
$300
Dayna
Talbot
Self Contained
Rusted Steel, Linen Thread, Various Fibers, Abaca Pulp
40×94″
$6,500
Babara
Trachtenberg
Hippolyta
Acrylic on Canvas
36×24″
NFS
John
Vernon
Demons
Oil on Canvas
36×36″
$500
Karen
Watson
Pride
Silver Gelatin Photography
19.5×25.5″
$800
Patricia
White
Erosion Self Portrait
Mixed Media
22×65″
$1,200
Timothy
Wilson
Selfless
Photography
20″ x 16″
$300
Phil
Young
I Used to Wear a Tie
Acrylic
11×14″
$500
About our Juror | Catherine Kehoe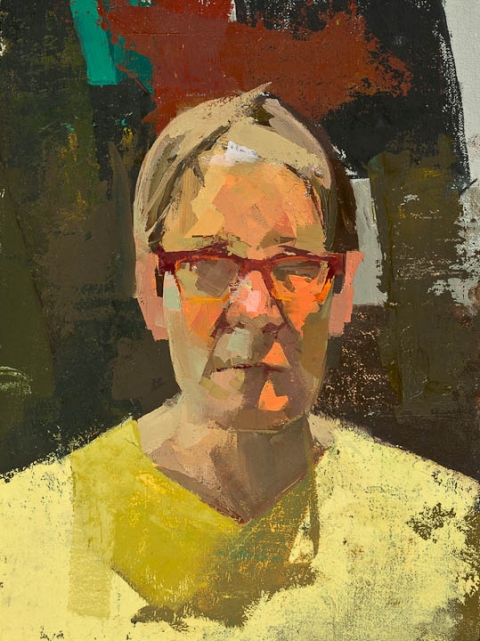 Catherine Kehoe was born in Hartford, Connecticut. She received her BFA in painting from Massachusetts College of Art and Design in 1989 and her MFA in painting from the School of Visual Arts, Boston University, in 1992. Kehoe has received the following awards: Lillian Orlowsky and William Freed Foundation Grant; Pollock-Krasner Foundation Grant; Berkshire Taconic Artist's Resource Trust Grant; Massachusetts Cultural Council Finalist Grant; Blanche E. Colman Award; St. Botolph Club Foundation Grant, and the Sam and Adele Golden Foundation for the Arts Award.  Kehoe is represented by Miller Yezerski Gallery, Boston.
Kehoe has been a visiting artist at Swarthmore College, Salve Regina University, Rhode Island College, Colby College, Hendrix College, George Mason University, University of Arkansas at Fort Smith, Indiana University, Boston University School of Visual Arts, and Hendrix College in Conway, Arkansas. Kehoe teaches painting and drawing at Massachusetts College of Art and Design. She has also taught painting workshops at Art New England (a summer workshop program of Massachusetts College of Art and Design at Bennington College), The Fine Arts Work Center in Provincetown, Truro Center for the Arts at Castle Hill,  the Washington Art Association, Cullowhee Mountain Arts, and at JSS in Italy, Civita Castellana, a program of the Jerusalem Studio School.