Presented at the Kathryn Schultz Gallery
Juried by Eve Ewing, Scholar|Writer|Educator|Artist
March 8 – 29, 2016
Reception | Friday, March 11, 6-8pm
About our Juror | Eve Ewing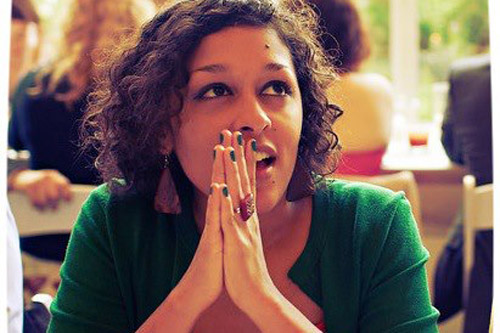 Eve is a doctoral candidate at Harvard University; as a sociologist of education, her research is focused on racism, social inequality, and urban policy, and the impact of these forces on American public schools and the lives of young people. Her dissertation, "Shuttered Schools in the Black Metropolis: Race, History, and Discourse on Chicago's South Side," explores these topics in the context of the 2013 public school closures in Chicago, and the relationship between such closures and the structural history of race and racism in Chicago's Bronzeville community. [Read more about Eve's research here.]
Eve is also an essayist and poet. Her work has been published in many venues, including Poetry Magazine, The New Yorker, Union Station, and the anthology The Breakbeat Poets: New American Poetry in the Age of Hip-Hop. She has been a Pushcart Prize nominee, a finalist for the Pamet River Prize, and a scholarship recipient for the New Harmony Writers Workshop. She currently an editor and staff writer for the website Seven Scribes. She is also one of the organizers of MassLEAP, which is home of the Louder Than A Bomb Massachusetts youth poetry slam. [Read more about Eve's writing here.]
For ten years, Eve has been an educator in both traditional and community-based settings. She taught science and language arts to grades 6-8 in a public school in Chicago's Bronzeville community, where her work was generously supported by grants from the Chicago Foundation for Education, and the Oppenheimer Family Foundation. She has also taught for After School Matters and the Center for Talent Development at Northwestern University. For two years, she was a teaching fellow for the Arts in Education masters program at the Harvard Graduate School of Education. In spring 2016, she will teach two courses: Racism & Inequality in the Lives of African-American Youth (Harvard University) and Education & Social Policy (Wellesley College).
Notes from Eve:
In reviewing the many incredible submissions for this show, I was drawn to work that offered more questions than answers. The reality is that the challenge to speak truth to power is an incredibly difficult one to take up, necessitating that the speaker allow great risks: the risk of harm to themselves or their families, the risk of being permanently silenced, the risk of ridicule that one takes on when doing countercultural work. It is easy to pretend that these risks do not exist—that speaking truth to power is as simple as standing up and shouting one's complaints. But the reality is, particularly for people who are already marginalized and threatened—Black people, Native people, Latinx people, Asian people, undocumented people, people with disabilities, queer people, women, and those of us who exist at the intersections of these identities—speaking truth to power is as difficult as it is necessary. I was compelled by work that highlighted, acknowledged, and even embraced this difficulty, art that reminds us that there are no easy answers. Many of the works selected may feel confusing and contradictory, incomplete and imperfect. In this, I hope that they invite conversation rather than satisfaction. After all, this work of liberation is nascent still.
Pick up of  Not Accepted (Kathryn Schultz Gallery): Saturday March 5, 11am-5pm
End of Show Pick Up: Wednesday March 30 11am-5pm & Thursday March 31, 11am-5pm
Congratulations to the participating artists!
| | | | | | |
| --- | --- | --- | --- | --- | --- |
| | | | | | |
| Janet | Amphlett | Speak to the Hand | Mixed Media | 8×8″ | |
| Chuck | Beisch | The Usual Suspects | Photography | 8×12″ | |
| Nancy | Crasco | Lost in a Fog | Fiber | 36×36″ | $1,000 |
| Susan | Denniston | Colored by Darkness, Bangladesh | Colored by Dreams | Four Monoprints | | $500 |
| Ronni | Komarow | No Child Left Behind | Artist Book | | |
| Paul | Levenson | Mother's Earrings | Painting/Sculpture | 15x16x6″ | $300 |
| Melissa | London | You Can't Sit With Us | Digital Photography | 16×18.5″ | $500 |
| Madi | Lord | The Griot: Song of History Ignites the Justice | Welded Steel | 36″ | $1,800 |
| Azita | Moradrehani | Which Pair Are Yours? | Color Pencil | 12.5×15.5″ | $1,800 |
| Daniela | Pasqualini | Indfifference | Mixed Media | 22×28″ | $750 |
| Ruth | Rosner | Refugee Women Series: What held Her There/What Calls her Forward [Bookjack Woman] | Sculpture: Plaster, Wire, Ash Clay, Found Electrical Wiring, Found Rusted Metal | 53x30x25″ | $6,900 |
| Karen | Rothman | Incarceration Cries For Compassion | Acrylic on Canvas | 24×30″ | |
| Frances | Schreiber | The Invisible Man | Watercolor | 29.5×21″ | |
| Adrienne | Sloane | Face Off | Knit Cotton Over Wire | 96x80x56″ | $585 |
| Brenda | Steinberg | When Will They Ever Learn/Children's Lives Matter, Flint | Photography | 12.5x12x2 | $200 |
| Tom | Stocker | An Inconvenient Truth (Portrait of Al Gore) | Acrylic and Nails on Canvas | 20×20″ | $1,800 |
| Lorraine | Sullivan | Is it Safe? | Silk, Wire, Thread, Found Objects | 12×31″ | $1,000 |
| Sarah | Vincent Hoag | Words of Saint Augustine | Embroidery on Vintage Textile | 16×34″ | $250 |
| Patricia | White | Epitaph #13 (Auschwitz Series) | Monoprint with Chine Colle | 20.5×25.75″ | $500 |